I am going to try to host a linky party for getting help/advice - let's see how it goes! Link up your questions about design problems and hopefully we can all help each other out!
Help Me Monday!
Here is my cry for help:
I have turned a blind eye for the last 6 months to the poor, neglected red headed step child of a Living Room/Dining Room. Those are the rooms we use the least, and they have been easy to ignore. But in a whim yesterday I thought we should try some different furniture arrangements.
First I should introduce the star of the show, the belle of the ball - the elephant in the room, literally - Big Bertha the Grand Piano.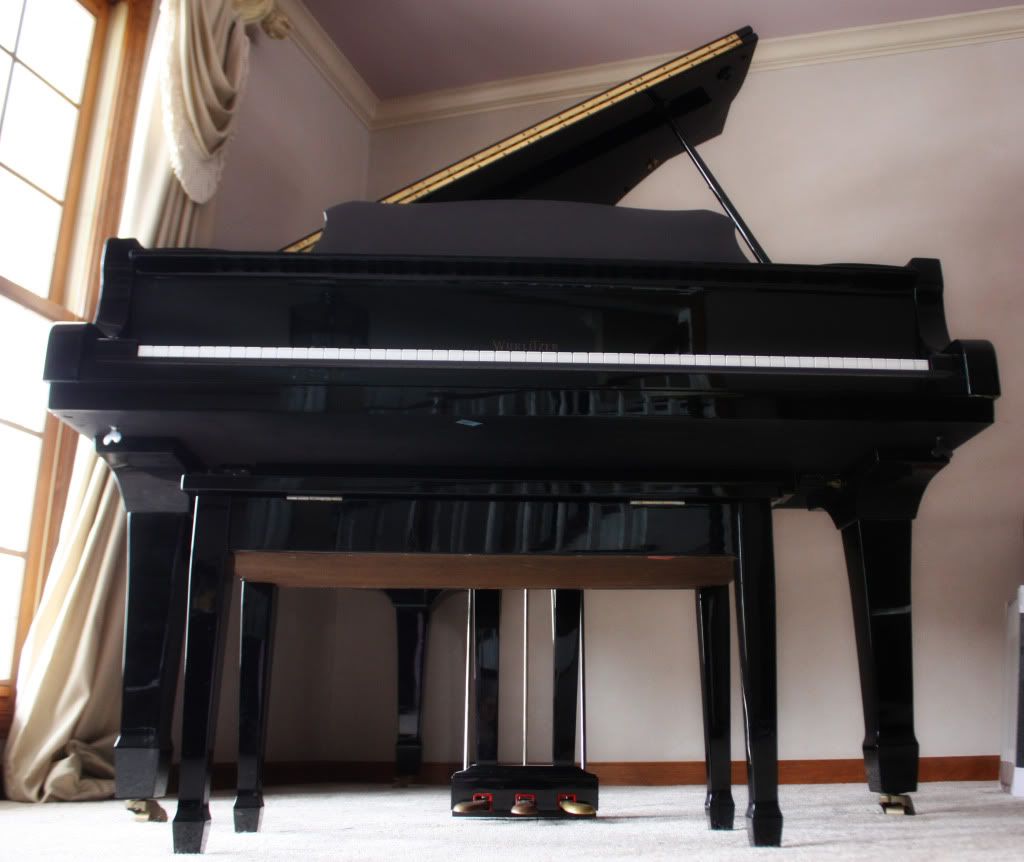 Not a baby grand piano, Ryan couldn't have that - we must have a GRAND piano that he plays less than ten times a year that we have lugged from house to house and bought each house around this huge piano that doesn't fit nicely anywhere. OK - I think I got all that out..moving on...
She sits here in the front of the room, blocking all natural furniture placement.
After I saw this blog post by
Judy
on finding the perfect furniture arrangement:
http://diybydesign.blogspot.com/2011/01/finding-perfect-furniture-arrangement.html
I thought - oh my! My living room is set up just like this, I can do this very arrangement! Only to be told be the occasional piano player that no way could we even move the elephant, I mean Bertha to that spot by ourselves without breaking her legs - but she is a GRAND piano, therefore much longer than the piano in the above room, and would take up much more of the room this way.
So, with much effort, we inched Bertha to a less angled spot, and more towards the window wall so we could move the sofa down a bit. Here is what we came up with: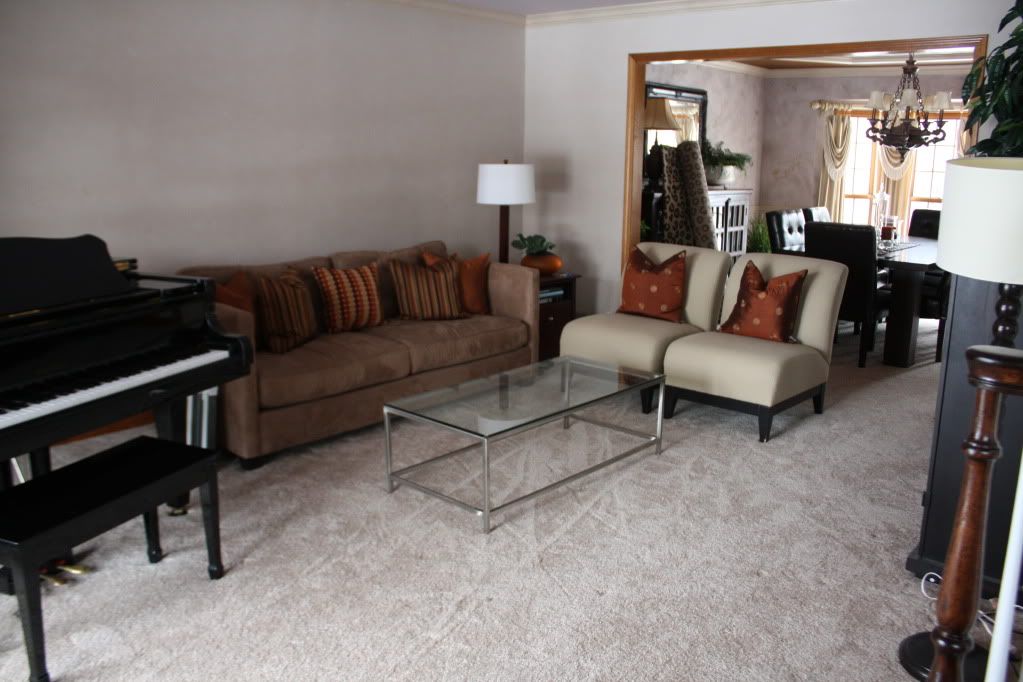 It looks like all of the furniture has been shoved to the right side of the room.
We brought in this cabinet that has been hanging out in the guest room until I can get it on craigslist, just to see if it was any better with something on that wall.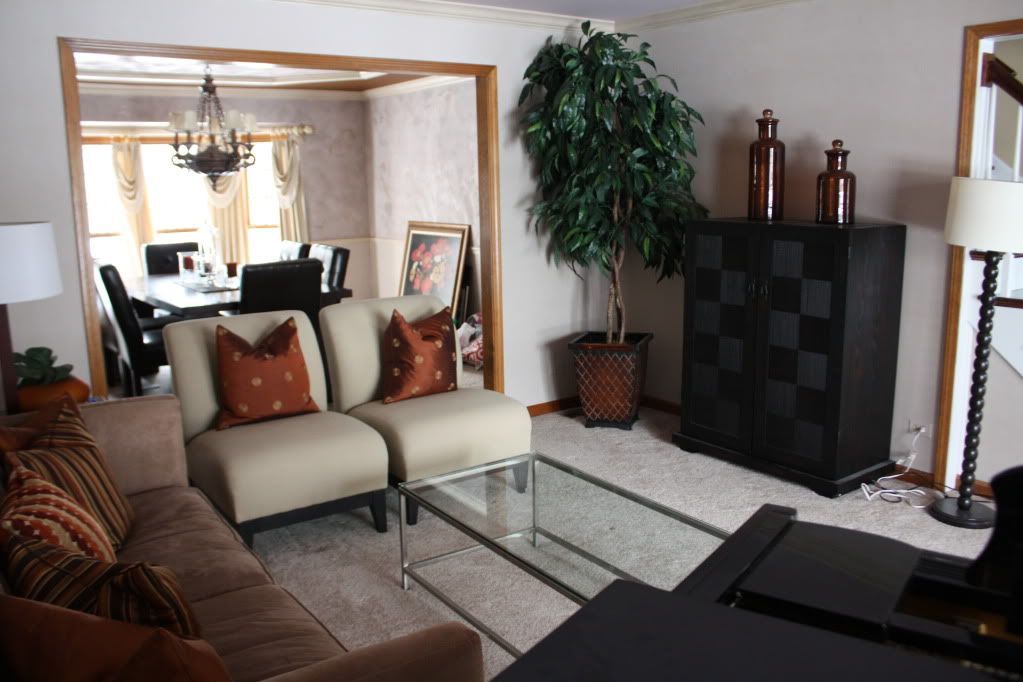 The previous arrangement had the slipper chairs over on the wall where the black cabinet is now - but that wasn't great either.
Any helpful words of advice here? Other than ditch the piano on craigslist along with the black cabinet? And that hideous fake tree too!

Here it is from one more angle:
Oh how I miss you my San Antonio Rose!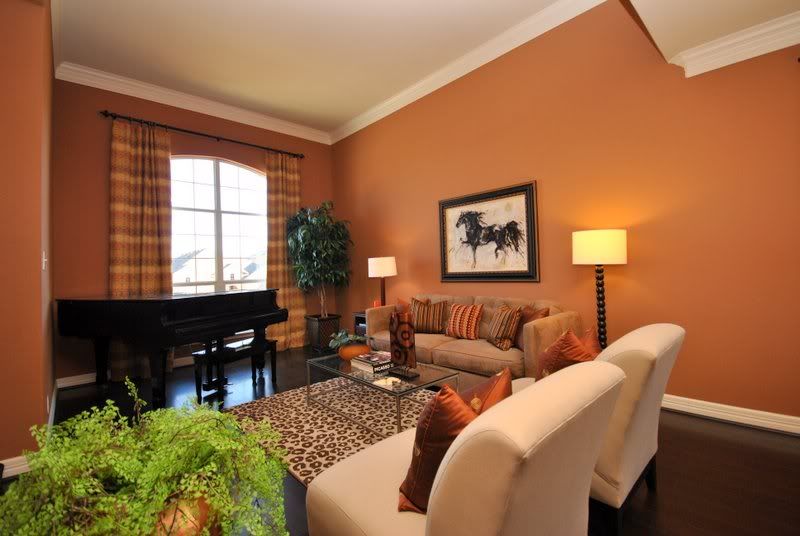 Please post your link for Help Me Monday! and grab a button for your blog.