Oh my word! Who knew it would take me two weeks to paint this room?! And all of it's trim! I did do it for a couple hours here and there, in the middle of Daisy Scout meetings, Girl Scout Cookie pick up and hand out, and Variety Show preparations - so it took a while. At least I had a good friend keeping me company and sharing advice: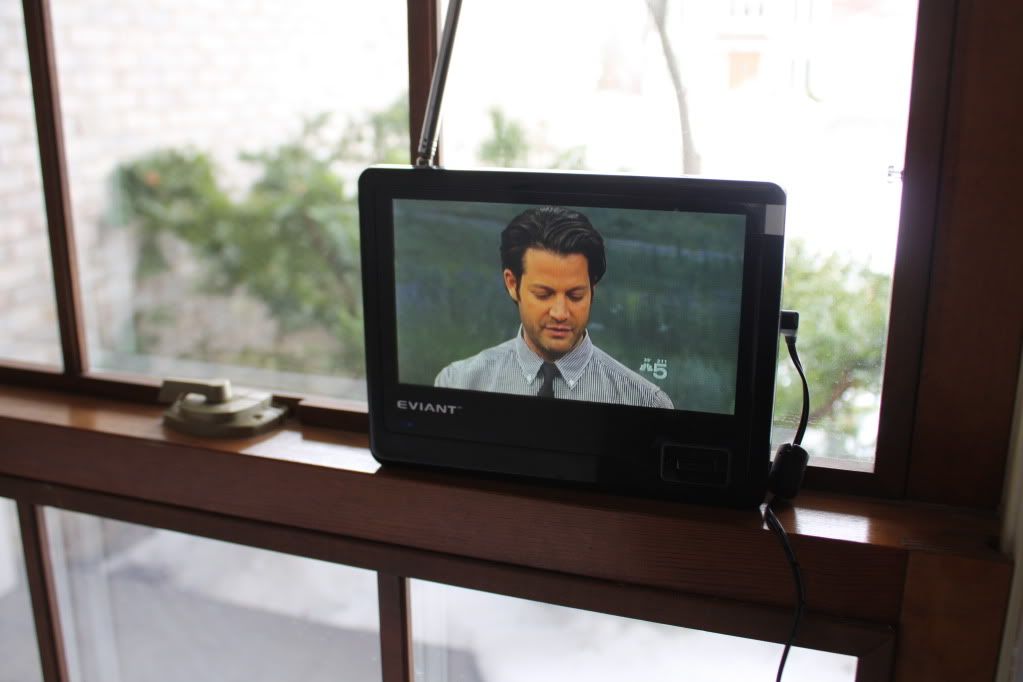 We began with caulk, caulk and more caulk. Painting the wood trim reveals every nook and cranny that you never noticed with the naked wood.
Here is one coat of primer: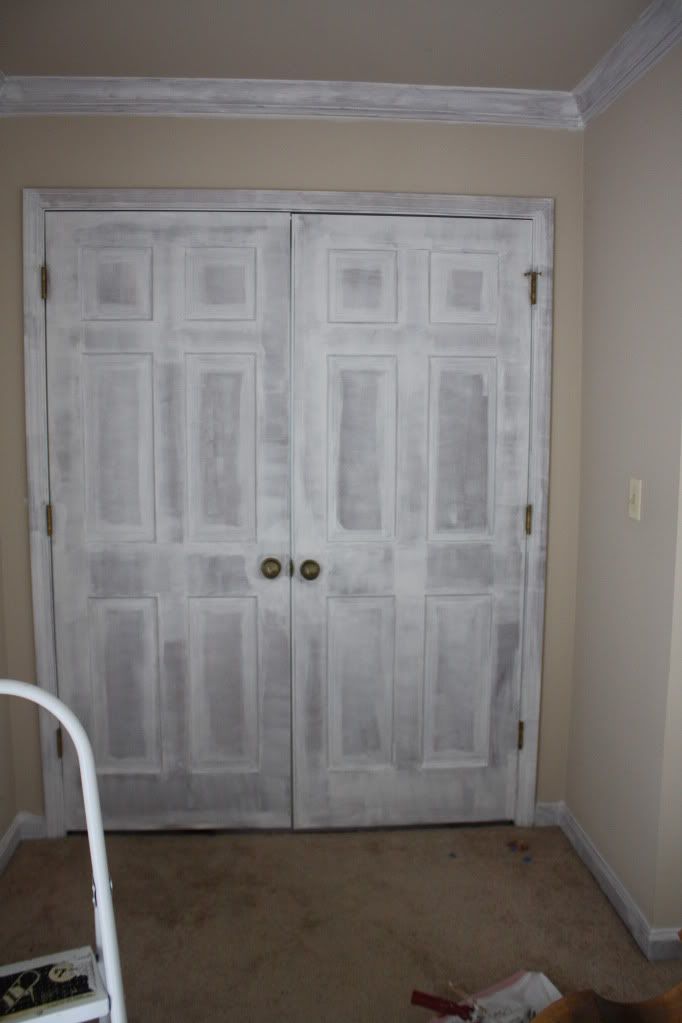 Here are the same doors after two coats of primer and one coat of paint: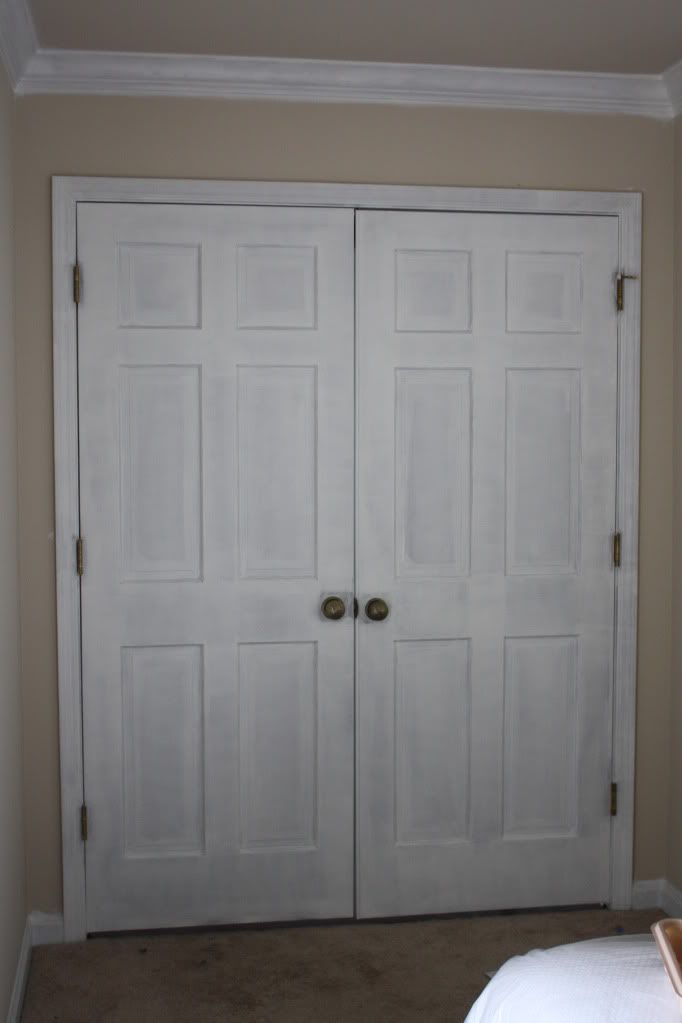 And the final product, 2 coats of primer and 2 coats of paint: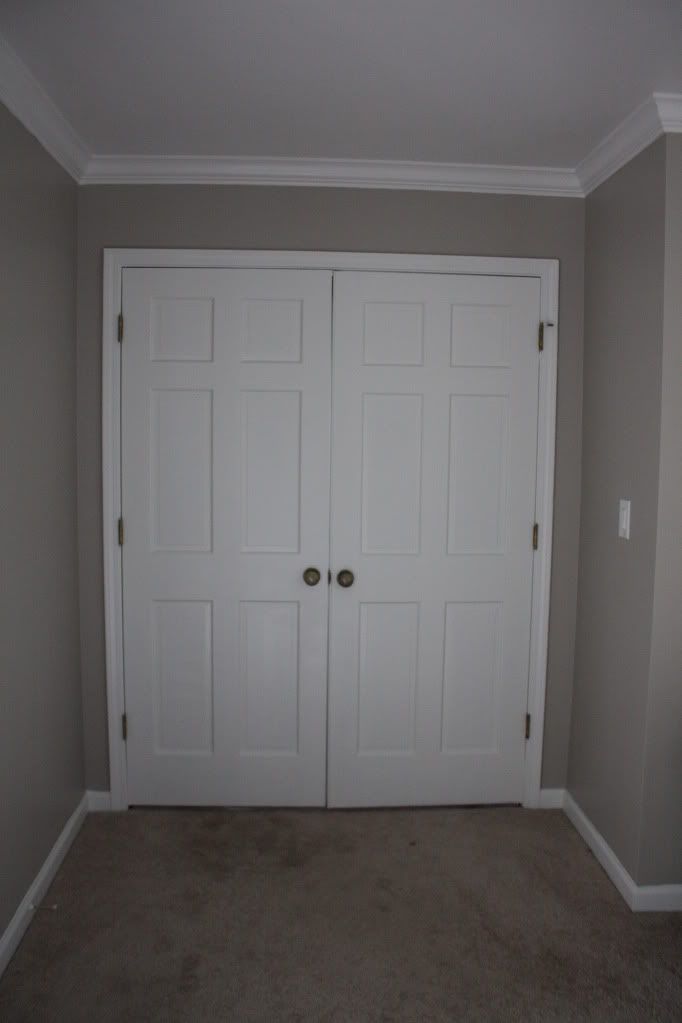 I did end up choosing the color Amazing Gray by Sherwin Williams instead of Silver Fox - Benjamin Moore, it was a touch lighter, and I wanted to err on the airy side.
It is a nice taupey gray, I had some warnings about grays that tend to look purple - thanks for that! But this one turned out really nice in the room.
We also painted the ceiling the same color as the trim - Pure White - Sherwin Williams, it really brightened up the room.
Here is the room now!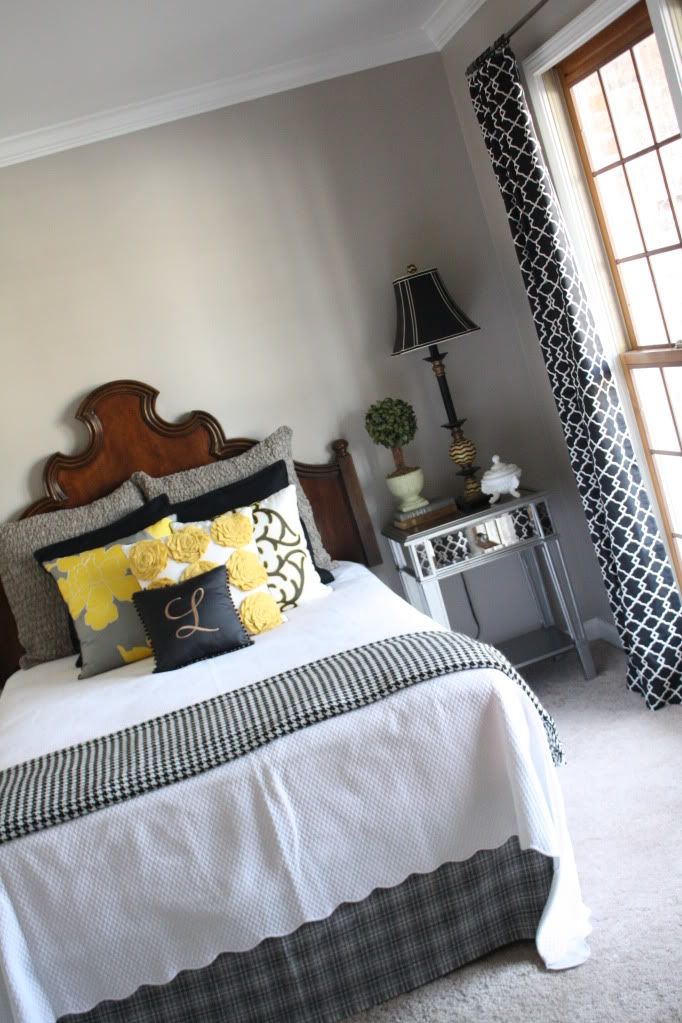 I still need to add some things, I am thinking:
some plates or small quatrefoil mirrors over the bed
would love to have overhead lighting put in, it's begging for a chandelier!
a new lamp, I'm thinking citrus, but I might have to whip out the spray paint to get it
a new bed skirt, gray or black?
my seamstress (aka MIL) said she could make an adjustment to the bedspread so it would fit better on the full size bed
either a dresser or desk on the entry wall to the left. The hub says a desk doesn't make sense, but I thought it would give the opportunity for a chair we might not other wise have room for. Any opinions?
P.S. I didn't paint the inside of the windows for fear of painting them shut. When warmer weather gets here in 3 years or so, I will paint them... I can turn a blind I to them until then, right?
Linking to:
Houseography
for House Tour: Guest Rooms
The DIY Showoff
for DIY Project Parade
Under the Table and Dreaming
for Sunday Showcase Party
Dittle Dattle
for Amaze Me Monday