and now I have some too!!!
My in-laws just went home after a whirlwind of projects - so I will have a lot to share now!
My favorite finished project is my new curtains in the family room. I have quite a story about these!
I have ALWAYS loved
The Nester's
curtains:
And then when I saw these on
A Thoughtful Place
:
I knew I needed some! And I wouldn't mind having her light fixture over the table too.
For a long time people asked The Nester - "Where did you find the fabric!?". Much to every one's disappointment, the fabric was long gone from the Carolina fabric shop where she originally purchased the fabric. Well...one morning while scrolling through blogland, I saw her announcement that the store found one more bolt of the fabric! I called immediately - and I was 8th in line for a cut of it! She said she would call me back after she finished with #7 - of there was any left.... a long 35 minutes later, she called me and in an oh so sweet southern drawl that I dearly miss - said "Now...what exactly are you going to DO with this fabric?". I explained my plan of how we would turn it and piece it to be two horizontal striped panels. They only had two pieces left of it, about 4 yards each piece, but there were runs and flaws in three places throughout the fabric - oh no! But she thought I could do it! When she offered it at 1/2 price, what did I have to lose!?
After I sat on the fabric for a while, didn't use it in the kitchen, mulled it over - I thought, why not try it in the family room? I could go with a more neutral palate in there, with soft browns and greens? So Martha the Window Treatment Whisperer and I got to work. She did the math and we sewed away! I even sewed a bit on these too. I LOVE the finished product! It warms up the room so much!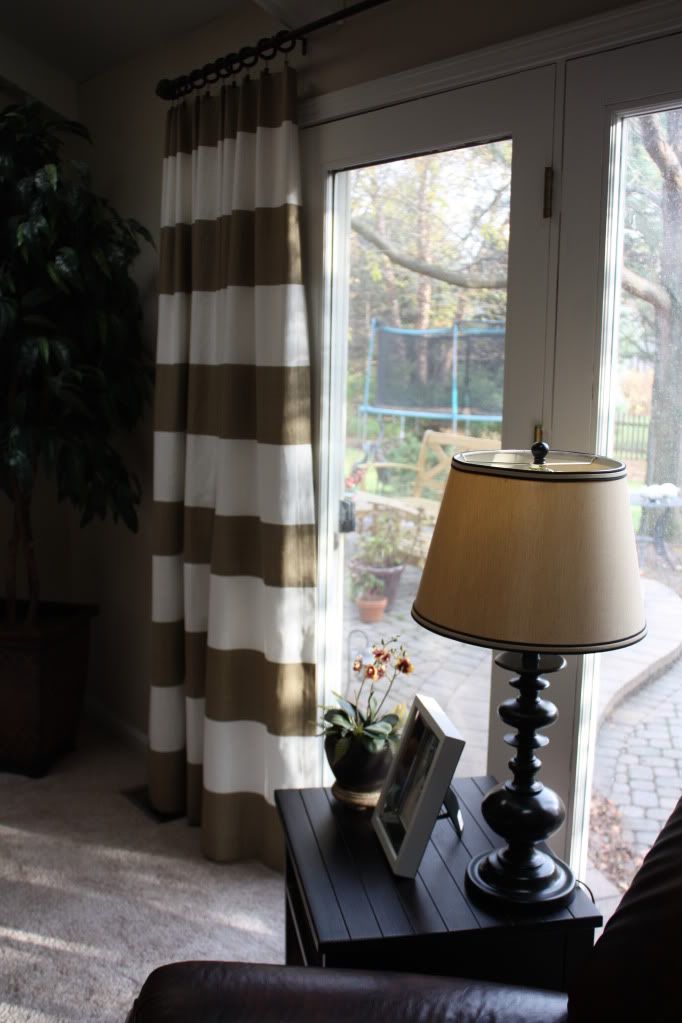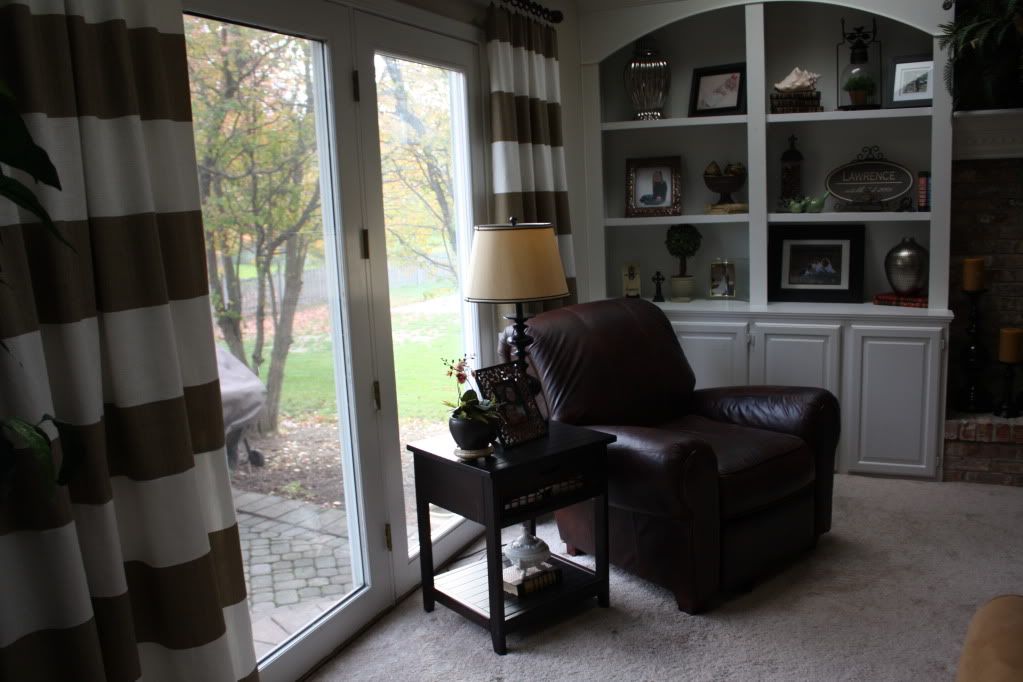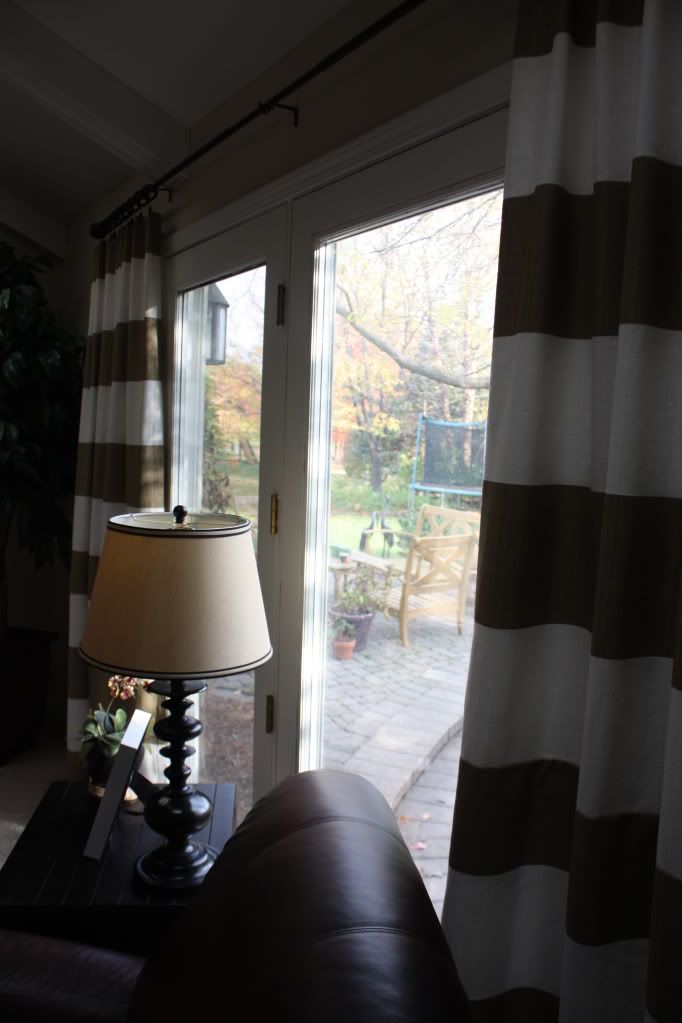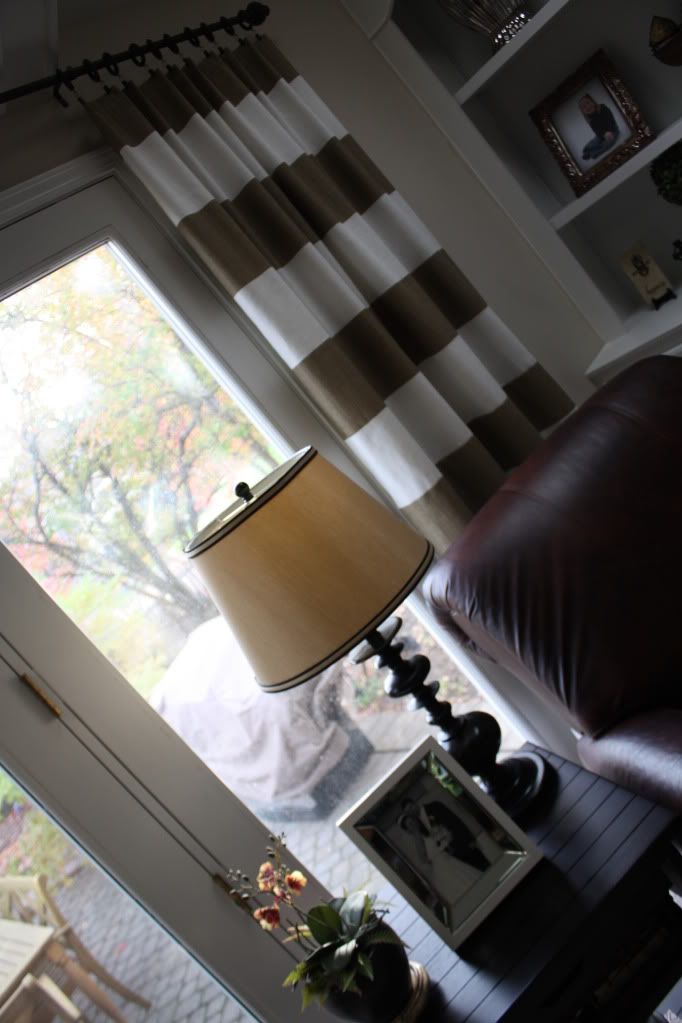 What do you think?
Linking to:
The DIY Showoff -
Fall Festival
Savy Southern Style -
Wow Us Wednesdays
DIY By Design -
Fall Into Fall Party
No Minimalist Here -
Open House Party Thursdays